Analysis of Implementation Quality of Training And Education By UPT Bapelkes, Riau Provincial Health Office
Abstract
The ability of the UPT health training center for Riau Provincial Health Office in providing education and health training was faced with several problems. The objective of the research was to analyze the implementation of health education and training by the UPT Bapelkes Riau province. The design of this research is qualitative. The tringulations that used were source tringulation, method and data. The results showed that the tangible dimensions for facilities and infrastructure were still not good enough, the human resources and staff appearance were quite good. Reliability was good enough. Responsiveness was good enough. Assurances were good and empathy was good. Suggestion for UPT Bapelkes Riau province to complete facilities and infrastructure as well as carried out quality safety and quality assurance.
Downloads
Download data is not yet available.
References
Aminullah. (2018). Analisis Tingkat Harapan Dan Kepuasan Terhadap Kualitas Pelayanan Penyelenggaraan Diklat Teknis Fungsional Guru Tingkat Madya IPS Madrasah Tsanawiyah. Andragogi. Jurnal Diklat Teknis, 6(2), 1–45.
Elbadiansyah. 2019. Manajemen Sumber Daya Manusia. Yogyakarta: CV. IRDH.
ldyani. 2018. Upaya Peningkatan Kompetensi : DAmpak Pelatihan Bersubsidi Serta Peran Instruktur. Jurnal Universitas Semarang : 142-153
Fahmi. 2018. Pengaruh Pendidikan Dan Pelatihan (Diklat)Terhadap Prestasi Kerja (Studi Pada Dinas Kesehatan Kabupaten Pamekasan). Jurnal Administrasi Publik (JAP) 3(11):1809–13.
Ghahramanian. (2017). Quality of Healthcare Services and Its Relationship With Patient Safety Culture And Nurse-Physician Professional Communication. Health Promotion Perspectives, 7(3), 168–173.
Hanggaraningrum. (2017). The effect of service quality on outpatient satisfaction of dr. Soegiri general hospital lamongan. Journal of Applied Management, 15(4), 643–650.
Harum. 2019. Analisis Faktor Yang Mempengaruhi Mutu Pelayanan Kesehatan Terhadap Kepuasan Pasien Di Puskesmas Rawat Inap Kabupaten Pasaman 2019. Jurnal Human Care 4(3):38–148.
Henryanto. 2014. Analisis Tingkat Kepuasan Peserta Diklat Dari Kualitas Pelayanan Diklat Badan Kepegawaian Daerah Kabupaten Kepulauan Mentawai. Jurnal KBP 2(1).
Hidayat. 2017. Pengaruh Diklat (Pendidikan Dan Pelatihan) Terhadap Prestasi Kerja Karyawan Di Bank BPR Rokan Hulu. Jurnal Ilmiah Cano Ekonomos 6(1):71–82.
Ismainar. (2018). Administrasi Kesehatan Masyarakat (Yogyakarta). DeePublish.
im, J. S. (2018). The role Of Hospital Service Quality In Developing The Satisfaction Of The Patients And Hospital Performance. Management Science Letters, 8(2), 1353–1362.
Mamik. 2014. Manajemen Mutu Pelayanan Kesehatan Dan Kebidanan. Yogyakarta: Zifatama.
Martha, E. 2017. Metode Penelitian Kualitatif Untuk Bidang Kesehatan. Jakarta: Rajawali Pres.
Mashar. 2015. Pengaruh Pelatihan Terhadap Prestasi Kerja Pegawai Pada Inspektorat Kabupaten Rokan Hulu. Jurnal Universitas Pasir Pengaraian: 1–9.
Lestari. (2017). Analisis Tingkat Kepuasan Pasien Rawat Jalan (Studi Kasus pada Pasien Rawat Jalan di RSUD Dr. M. Ashari Kabupaten Pemalang. Artikel Ilmiah Fakultas Ilmu Sosial Dan Ilmu Politik Universitas Diponegoro, 1–12.
Nawangwulan. 2018. Analisis Kebutuhan Pelatihan Dan Pengembangan Sumber Daya Manusia. Jurnal Manajemen Kesehatan Yayasan Dr. Soetomo 4(1):24–29.
Nugroho. (2018). Analisis Kepuasan Peserta Terhadap Kualitas Pelayanan Widyaiswara Pada DTSS Pengadaan Barang/Jasa di BDK Malang. Jurnal Pendidikan Nonformal, 12(2), 62–79.
Nuraini, N. (2018). Tingkat Kepuasan Peserta Terhadap Kualitas Pelayanan Widyaiswara Pada Diklat Teknis Substantif Publikasi Ilmiah bagi Guru Mata Pelajaran Agama MTs Angkatan III. Andragogi: Jurnal Diklat Teknis Pendidikan Dan Keagamaan, 6(1), 168–186. https://doi.org/10.36052/andragogi.v6i1.53
Pakpahan. 2016. Pengaruh Pendidikan Dan Pelatihan Terhadap Kinerja Pegawai (Studi Pada Badan Kepegawaian Daerah Kota Malang). Jurnal Administrasi Publik (JAP) 2(1):116–21.
Pohan, I. 2007. Jaminan Mutu Pelayanan Kesehatan, Dasar-Dasar Pengertian Dan Penerapan. Jakarta. Jakarta: Kesaint Blanc.
Pransaudara. 2019. Penerapan Metode Service Quality (SERVQUAL) untuk Peningkatan Mutu Pelayanan Pelanggan. Jurnal OPSI 2 (1): 1-11: ISSN 1693-2102
Supriyono. 2018. Deskripsi Tingkat Kepuasan Dengan Tingkat Kepentingan Peserta Pelatihan Pada Pelayanan Balai Pelatihan Kesehatan Di Batam. Jurnal Wacana Kinerja 21(2):79–98.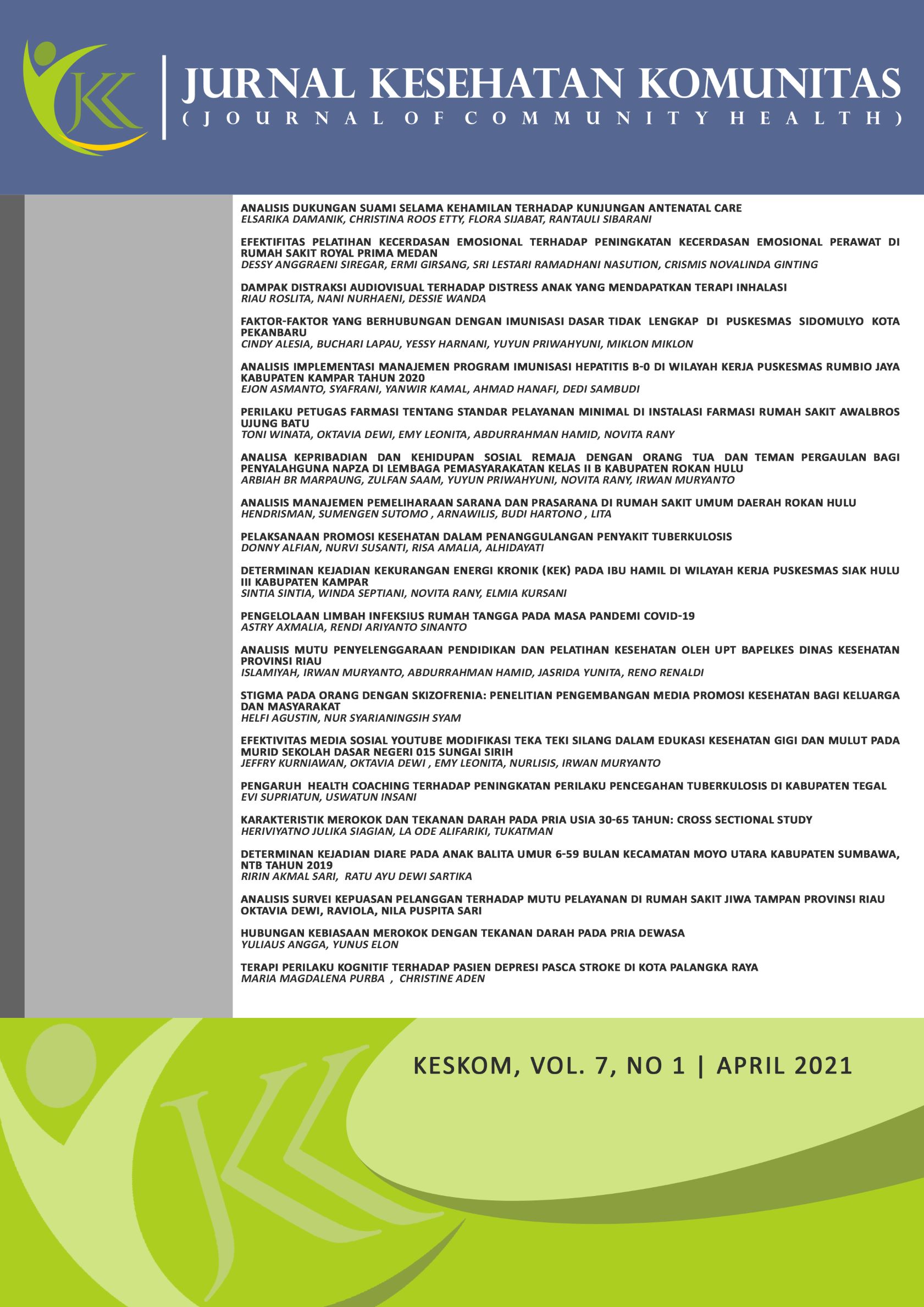 Downloads
How to Cite
1.
Islamiyah I, Muryanto I, Hamid A, Yunita J, Renaldi R. Analysis of Implementation Quality of Training And Education By UPT Bapelkes, Riau Provincial Health Office . J Keskom [Internet]. 2021 Apr. 30 [cited 2023 Sep. 24];7(1):77-82. Available from: https://jurnal.htp.ac.id/index.php/keskom/article/view/859
License
Copyright (c) 2021 Jurnal Kesehatan Komunitas
This work is licensed under a Creative Commons Attribution-NonCommercial-ShareAlike 4.0 International License.
Copyright @2017. This is an open-access article distributed under the terms of the Creative Commons Attribution-NonCommercial-ShareAlike 4.0 International License (http://creativecommons.org/licenses/by-nc-sa/4.0/) which permits unrestricted non-commercial used, distribution and reproduction in any medium