No Smoking Area Policy Implementation On Student In Pekanbaru Hang Tuah Institude Of Health
Keywords:
implementation of policies KTR, knowledge, social environment
Abstract
College of Health Sciences ( STIKes ) Hang Tuah Pekanbaru as the implementation of the learning process for students at the same workplace for its employees , which should be a place where the Smoking Area based health legislation . Therefore since 2011 STIKes Hang Tuah has issued a policy in the form of a circular by the number of letters No. / 09 / STIKes - HTP / IX / 2011/289 / on Smoking Area in STIKes environment Hang Tuah Pekanbaru. This study was conducted to determine No Smoking Area Policy Implementation (KTR) On Student In High School Environmental Health Sciences Hang Tuah Pekanbaru in 2013 .Metode research with cross sectional design was conducted in June-July 2013. Number of samples 350 students. The sampling procedure by using of Proporsional, data collection using of questionnaires and analysis of data conducted by univariate, bivariate chi-square test and multivariate multiple logistic regression. The results showed that  do not comply with policies KTR 236 people (67.4%), variables related to the implementation of policies KTR are knowledge policies KTR (OR: 15.594, 95% CI: 7.530 to 32.292) and social environment (OR: 17.118; 95% CI :9,455-30, 992), a variable that is not related to policy implementation KTR is knowledge on the dangers of smoking and these variables are not counfounding. It is expected that Hang Tuah STIKes Pekanbaru with each study program is in STIKes Hang Tuah Pekanbaru to do reviews and socialization about No Smoking Area to students who still smoke in the environment STIKes HangTuah Pekanbaru
Downloads
Download data is not yet available.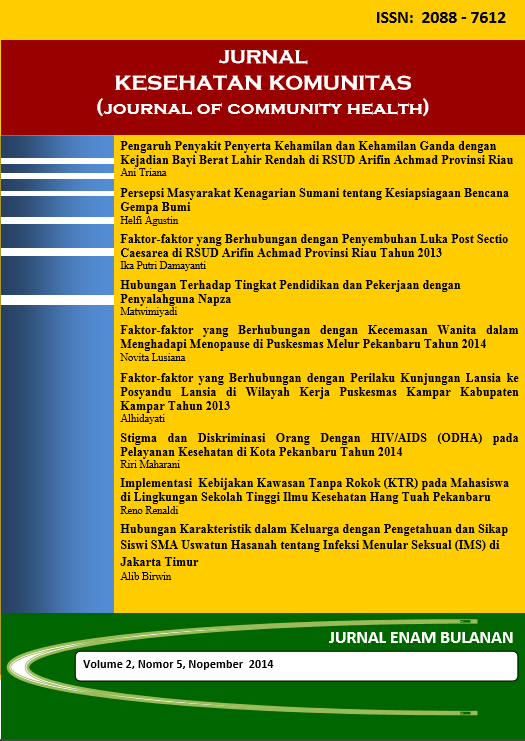 Downloads
How to Cite
1.
Renaldi R. No Smoking Area Policy Implementation On Student In Pekanbaru Hang Tuah Institude Of Health. J Keskom [Internet]. 2014 Nov. 1 [cited 2023 Jun. 2];2(5):233-8. Available from: https://jurnal.htp.ac.id/index.php/keskom/article/view/82
License
Copyright @2017. This is an open-access article distributed under the terms of the Creative Commons Attribution-NonCommercial-ShareAlike 4.0 International License (http://creativecommons.org/licenses/by-nc-sa/4.0/) which permits unrestricted non-commercial used, distribution and reproduction in any medium