Factors Associated with Active Aging at Payung Sekaki Health Center Pekanbaru City
Keywords:
active aging, sport, income, gender
Abstract
Quality healthy elderly refers to the active aging concept, namely the aging process that remains physically, socially and mentally healthy so that they remain prosperous throughout life. Many factors are related to the activity of the elderly such as: sports, income and gender with education as a confounding variable because it has two unique relationships, namely it is positively related to the exposure variable and positively related to the exposed variable (active aging). The purpose of the study was to determine the health factors associated with active aging. This type of quantitative analytic research, using a cross sectional design. The study population was the elderly group registered in each Posyandu in the Payung Sekaki Community Health Center. The sample is 121 respondents. Data was collected by distributing questionnaires. Data analysis used Chi Square test and multiple logistic regression. The results of the analysis show that there is a significant relationship between exercise, income, gender and education with active aging. It is better for the government to consistently carry out efforts to improve social welfare for the elderly, so as to support healthy aging and active aging.
Downloads
Download data is not yet available.
References
Ardiani Helin. 2018 "Faktor-faktor yang berhubungan dengan Kualitas Hidup Lansia Di Kelurahan Mugarsari Kecamatan Tamansari Kota Tasikmalaya Tahun 2014". Jurnal Umtas. (vol. 01). 02. 42-50. 17 April 2020
Arfan Iskandar. 2017. "Faktor Frekuensi Kunjungan Lansia ke Posyandu Lansia di Kecamatan Pontianak Timur". Jurnal Vokasi Kesehatan. (vol. 02). 03. 92-97. 13 September 2020
Boy Elman. 2019. "Peningkatan Kualitas Hidup Lansia Dengan Husnul Khatimah Care". International Journal of Human and Health Science. (vol. 07). 02. 67-73. 22 April 2020
DI Wiwid. 2018. "Faktor-faktor yang Mempengaruhi Pemanfaatan Posyandu Lansia". Journal of Health Studies. (vol. 02). 01. 110-122. 22 April 2020
Fauzia. 2016. "Kepatuhan Penggunaan Obat pada Pasien Yang Mendapat Terapi Antibiotik". Jurnal Surya Medika. (vol. 02). 01. 38-46. 12 April 2021
Gamya. 2016. "Analisis Tekanan Darah Lansia yang Melakukan Kegiatan Olahraga Jalan Pagi". Jurnal Ners Indonesia. (vol. 06). 01. 76-84. 22 April 2020
Ginting Daniel. 2019. "Hubungan Dukungan Keluarga dengan Keaktifan Lansia Mengikuti Kegiatan Posyandu Di Desa Lumban Sinaga Wilayah Kerja Puskesmas Lumban Sinaga Kecamatan Pangaribuan Kabupaten Tapanuli Utara Thun 2017". Journal of Healthcare Technology and Medicine. (vol. 05). 01. 72-85. 22 April 2020
Hanapi, S., Arda, Z.A. (2018). Faktor yang Berhubungan dengan Keaktifan Kunjungan Lanjut Usia ke Posyandu Lansia. Gorontalo Journal of Public Health. (vol. 01). 02. 72-77. Oktober 2018
Iersa Riva. 2017. "Faktor faktor yang Mempengaruhi Kunjungan Lansia ke Posyandu". Jurnal Ilmiah Kohesi. (vol. 01). 03. 55-71. 17 April 2020
Ikasi Ayusi. 2014. "Hubungan Dukungan Keluarga Terhadap Kesepian Pada Lansia". Jurnal Online Mahasiswa. (vol. 01). 02. 01-07. 06 Mei 2020
Isniati. 2012. "Kesehatan Modern dengan nuansa budaya". Jurnal Kesehatan Masyarakat. (vol. 07). 01. 39-44. 15 November 2020
Karohmah, A.N. (2017). "Peran Posyandu Lansia Dalam Meningkatkan Kesejahteraan Lanjut Usia Di Posyandu Lansia Sejahtera Kelurahan Pasirmuncang". Jurnal Untirta. (vol. 02). 02. 142-150. 15 September 2020
Kusumawati Yuli. 2016. Pengembangan Kegiatan Posyandu Lansia Anthurium di Surakarta". Warta LPM. (vol. 19). 02. 125-133. 15 September 2020
Kusumoningtyas, DN. 2018. "Efektifitas Terapi Slow Stroke Back Massage Terhadap Tekanan Darah Pada Lansia di RW001 Kelurahan Jombang Kecamatan Ciputat Kota Tangerang Selatan". Jurnal Ilmiah Kesehatan dan Olahraga. (vol. 02). 02. 39-57. 18 November 2020
Lestari Puji. 2011. "Beberapa Faktor yang Berperan Terhadap Keaktifan Kunjungan Lansia ke Posyandu Studi Kasus di Desa Tamantirto Kecamatan Kasihan Kabupaten Bantul Propinsi DIY". Media Medika Indonesiana. (vol. 45). 02. 74-81. 25 September 2020
Misnaniarti. 2017. " Analisis Situasi Penduduk Lanjut Usia Dan Upaya Peningkatan Kesejahteraan Sosial Di Indonesia". Jurrnal Ilmu Kesehatan Masyarakat. (vol. 02). 08. 67-73. 18 November 2020
Mubin, M.F., Livana P.H., Mahmudah, A.R. (2018). "Gambaran Tingkat Stres Keluarga Lansia". Jurnal Keperawatan Jiwa. (vol. 06). 02. 128-133. 13 September 2020
Murdiyanto (2017). " Peran Keluarga Dalam Mewujudkan Lanjut Usia Sejahtera". Jurnal MIPKS. (vol. 41).01.1-10. 15 September 2020
Permenkes. (2015). Penyelenggaraan Pelayanan Kesehatan Usia Lanjut di Pusat Kesehatan Masyarakat. Jakarta: Kementerian Kesehatan RI
Prabasari NA (2017). "Perbedaan Succesful Aging Pada Lansia Ditinjau Dari Jebis Kelamin". Jurnal Lentera. (vol. 02). 06. 86-91. 17 April 2020
Presiden Republik Indonesia. (2017). Instruksi Presiden Nomor 1 Tahun 2017 tentang Gerakan Masyarakat Hidup Sehat. Indonesia
Putri Mindianata. 2018. "Faktor-Faktor yang Berpengaruh Terhadap Niat Keaktifan Lansia Dalam Mengikuti Posyandu Lansia". Jurnal Promkes. (vol. 06). 02. 213-224. 12 September 2020
Purwadi Hendri, 2013 "Faktor Yang Mempengaruhi Pemanfaatan Posyandu Lansia di Imogiri Kabupaten Bantul". JNKI. (vol. 01). 03. 76-81. 22 April 2020
Risnah R. " Pengaruh Pelatihan Terhadap Pengetahuan Tentang Gizi Buruk Dan Inter-Professional Collaboration Petugas Puskesmas". Jurnal Kesehatan. (vol. 11). 01. 61-71. 21 Agustus 2020
Setyoadi. 2013 "Hubungan Peran Kader Kesehatan Dengan Tingkat Kualitas Hidup Lanjut Usia". Jurnal Ilmu Keperawatan.(vol. 01). 02. 183-192. 11 September 2020
Sri, F.A., Elisabet.Y. (2019). "Analisis Faktor Yang Mempengaruhi Lansia Datang Ke Pelayanan Kesehatan". Jurnal Ners dan Kebidanan. vol. 06).02. 189-196. 17 April 2020
Susanti Yulia. 2019. "Peningkatan Kemandrian dan Fungsi Kognitif Lansia Melalui Pendidikan Kesehtatan Tentang Perkembangan Psikososial Lania". Jurnal Keperawatan. (vol. 11). 03. 155-162. 02 Mei 2020
Yuningsih. 2014. "Pengaruh Motivasi Kerja Dan Kompensasi Terrhadap Kinerja Karyawan". Jurnal Visionida. (vol. 06).01.47-59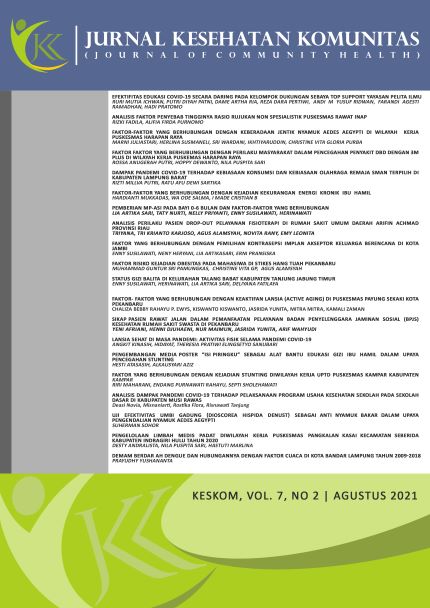 Downloads
How to Cite
1.
ewys chaliza bebby, Kiswanto K, Yunita J, Mitra M, Zaman K. Factors Associated with Active Aging at Payung Sekaki Health Center Pekanbaru City. J Keskom [Internet]. 2021Aug.31 [cited 2021Oct.26];7(2):208-13. Available from: https://jurnal.htp.ac.id/index.php/keskom/article/view/927
License
Copyright (c) 2021 Jurnal Kesehatan Komunitas
This work is licensed under a Creative Commons Attribution-NonCommercial-ShareAlike 4.0 International License.
Copyright @2017. This is an open-access article distributed under the terms of the Creative Commons Attribution-NonCommercial-ShareAlike 4.0 International License (http://creativecommons.org/licenses/by-nc-sa/4.0/) which permits unrestricted non-commercial used, distribution and reproduction in any medium