Counselling program of sanitation clinic Puskesmas Sungai Raya in 2020
Pendampingan Program Klinik Sanitasi Puskesmas Sungai Raya Tahun 2020
Keywords:
Sanitarian, Klinik sanitasi puskesmas
Abstract
Kesehatan Lingkungan (Kesling) sebagai salah satu upaya kesehatan untuk mencapai derajat kesehatan yang setinggi-tingginya. Kesehatan lingkungan dipuskesmas memiliki peranan vital terhadap derajat kesehatan masyarat diwilayah kerja puskesmas. Untuk mewujudkan pelayanan kesehatan lingkungan secara optimal diperlukan pelayanan kesling yang terintegrasi lintas program dan sektor. Sebagai puskesmas baru, pengelolaan manajemen, pemenuhan kebutuhan fisik Puskesmas serta SDM masih menjadi perhatian. disebabkan keterbatasan SDM puskesmas, tenaga sanitarian / Petugas Kesehatan Lingkungan Puskesmas Sungai Raya harus mendapatkan pendampingan, mengingat petugas yang ditunjuk tidak mendapatkan pendidikan formal sebagai sanitarian (D3/S1 Sanitaran). Tujuan pengabdian ini adalah Melakukan pendampingan terhadap petugas sanitarian dalam melakukan tugas pokok dan fungsi program klinik sanitasi Puskesmas Sungai Raya Kabupaten Indragiri Hilir. Adapun pendampingan yang dilakukan pada proses identifikasi potensi bahaya lingkungan, konseling, ispeksi dan intervensi masalah kesehatan. Hasil kegiatan menggambarkan komitmen pimpinan puskesmas untuk menyelenggarakan program klinik sanitasi puskesmas.
Downloads
Download data is not yet available.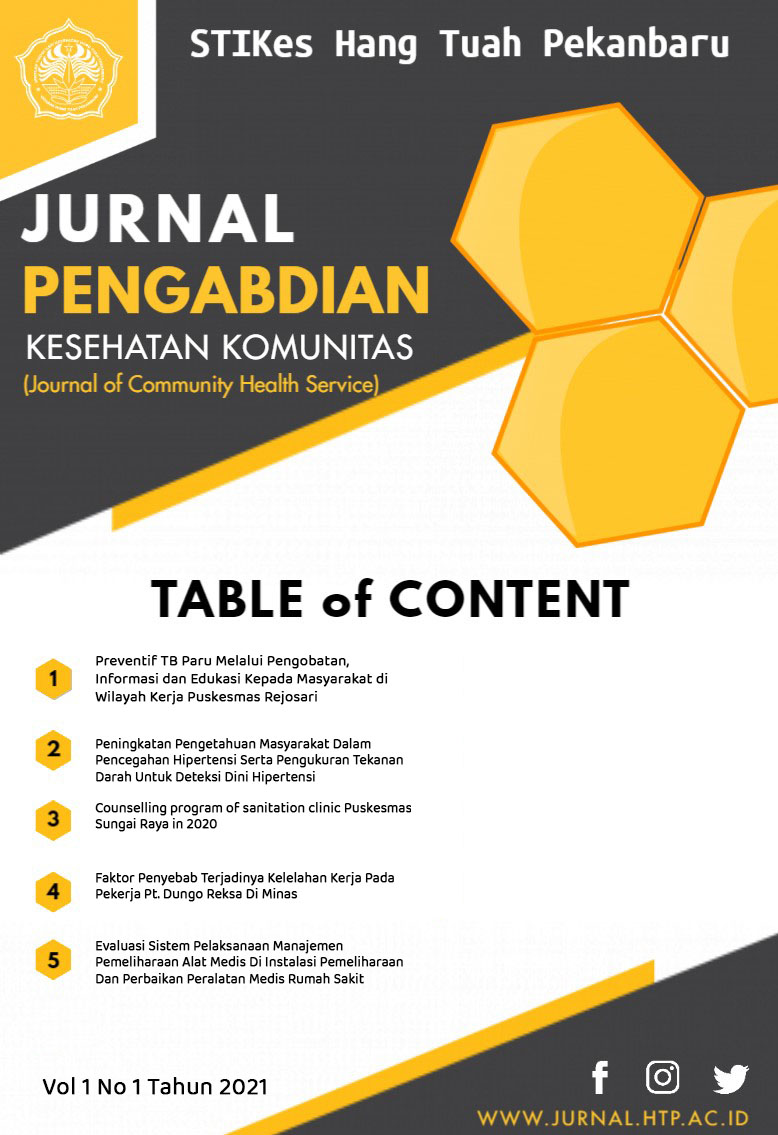 Downloads
How to Cite
zaman, kamali. (2021). Counselling program of sanitation clinic Puskesmas Sungai Raya in 2020: Pendampingan Program Klinik Sanitasi Puskesmas Sungai Raya Tahun 2020. Jurnal Pengabdian Kesehatan Komunitas, 1(1), 20–31. https://doi.org/10.25311/jpkk.Vol1.Iss1.899
License
Copyright (c) 2021 Jurnal Pengabdian Kesehatan Komunitas
This work is licensed under a Creative Commons Attribution-NonCommercial-ShareAlike 4.0 International License.