APPLICATION OF OCCUPATIONAL SAFETY AND HEALTH TRANS METRO ON BUS DRIVERS PEKANBARU CITY
Keywords:
Occupational Safety And Health, Training, Work Experience, SOP
Abstract
In 2013 are 2 cases an accident that results in 1 person died.So also in 2014 by one case of an accident resulted in 1 person died and some case of an accident else has happened. This showed that the high the number of accident caused by bus trans metro the city of pekanbaru. The purpose of this study is to find the application of work safety and health on the bus driver trans metro the city of pekanbaru. The kind of research used to research this is observational with the quantitative approach analytic with the design research cross sectional. A population of subjects as many as 100 composed of entire the bus driver trans metro pekanbaru with the sample of the 80 people. Technique the sample used is by means random simple. Test results bivariate show that the training pvalue = 0,001, work experiences pvalue = 0,001, the health condition of pvalue = 0,688, Stress pvalue = 0,834 work, and SOP pvalue = 0,002. From test bivariate it can be concluded that a significant relation exists between training, work experiences and SOP by the application of health and safety work at a bus driver trans metro city pekanbaru. Expected to transportation department city pekanbaru communication information, improve the quality of the driver work by granting provision education and training in an effort to prevent an accident in stages and sustainable appropriate tasks and responsibilities
Downloads
Download data is not yet available.
References
Agung, B (2008), Kompas. Rendahnya Budaya Keselamatan Berkendara di Indonesia. www.http://kompas.com/read/2008/03/30/31098. (diakses 07 Agustus 2017).
Amanda, G & Marbun (2014). Republika. Indonesia Urutan Pertama Peningkatan Kecelakaan Lalu Lintas. http://www.republika.co.id/ berita/nasional/umum/4/11/06/ nem9nc. (diakses 19 Agustus)
Badan Pusat Statistic Provinsi Riau.(2013). https://riau.bps.go.id/linkTabel Statis/view/id/91. (diakses 15 Agustus)
Buntarto, (2015). Panduan Praktis Keselamatan dan Kesehatan Kerja untuk Industri. Yogyakarta: Pustaka Baru Press.
Fikri & Lisfarika Napitupulu (2015). Pengaruh Faktor Kepribadian dan Stres Kerja Supir dengan Kecelakaan Jalan Raya pada Supir Bus Kota Pekanbaru. Universitas Islam Riau, Vol.09 no.03 Tahun 2015.http://jurnal.uir.ac.id/index.php/index/search/titles?searchPage=14. (diakses 27 Agustus 2017)
Global Status Report on Road Safety (2015). (n.d). http://www.who.int/ violence_injury_prevention/road_safety_status/2015/en. (diakses 7 Agustus 2017).
Herawati, T (2016). Pengaruh Prosedur Kerja dan Manajemen Diri Terhadap Keselamatan Kerja pada Karyawan PT. Alam Jaya Pratama di Kecamatan Loa Janan Kabupaten Kukar. Universitas Mulawarman, vol.04 no.03. http://ejournal.psikologi.fisip-unmul.ac.id/site/wp-content/uploads/2016/09 /Jurnal.Titia.Herawati(09-20-16-09-38-58).pdf. (diakses 27 Agustus 2017)
Hidayat, D. (2009). Ilmu Perilaku Manusia. Jakarta: CV. Trans metro Info Media.
Instruksi Menteri Perhubungan Republik Indonesia No. IM. 1 (2013). Tentang Rencana Aksi Peningkatan Keselamatan Transportasi.
Irianto, J & Sarimawarja Djaja, (2015). Status Kesehatan Pengemudi dan Kelaikan Bus Menjelang Mudik Lebaran. Media Litbang, vol. 26 no. 03, September 2016. http://ejournal.litbang.depkes.go.id/index.php/MPK/article /viewFile/4969/4624. (diakses 27 Agustus 2017)
Jati, W, (2015). Bisnis. Polisi: 90% Kecelakaan Lalu Lintas Akibat Kelengahan Pengemudi. http://kabar24.bisnis.com/read/20150419/15/424539. (diakses 07 Agustus 2017)
Kurnia, R. (2013). Gambaran Perilaku Tidak Aman Supir Bus Mayasari Bakti Saat Mengemudi. https://media.neliti.com/media/publications/18972. (diakses 15 Agustus 2017)
Kurniawidjaja, M. (2010). Teori dan Aplikasi Kesehatan Kerja. Jakarta: Penerbit Universitas Indonesia.
Kuswana, W. (2014). Ergonomi dan K3. Bandung: PT Remaja Rosdakarya Offset.
Nastiti, dkk (2015). Analisis Faktor-Faktor yang Mempengaruhi Kebiasaan Mengemudi Tidak Aman pada Supir Angkot Daerah Tembalang Kota Semarang. Universitas Diponegoro, vol.03 no.03 April 2015. https://media.neliti.com/media/publications/18691. (diakses 27 Agustus 2017)
Peraturan Daerah Kota Pekanbaru No 2 Pasal 48 Tahun (2009) Tentang Lalu Lintas dan Angkutan Jalan di Kota Pekanbaru
Peraturan Walikota Pekanbaru No. 46 Tahun (2016) Tentang Standar Operasional Prosedur Pengoprasian Koridor Trans Metro Pekanbaru
PP.No.43 Tahun (1993) Tentang Prasarana dan Lalu Lintas Jalan.
Pratama, A (2015). Hubungan Karakteristik Pekerja dengan Unsafe Action pada Tenaga Kerja Bongkar Muat di PT. Terminal Petikemas Surabaya. The Indonesian Journal Of Occupational Safety and Healt, Vol. 4, No. 1 Jan-Jun 2015: 64-73 (Diakses 9 Oktober 2017)
Prasetya, dkk. (2016). Faktor-Faktor yang Berhubungan dengan Safety Driving pada Pengemudi Bus Ekonomi Trayek Semarang – Surabaya di Terminal Terboyo Semarang. Universitas Diponegoro, vol.04 no.03 Juli 206. https://media.neliti.com/media/publications/18672. (Diakses 27 Agustus 2017).
Profil Dinas Perhubungan Kominfo. (2016). (n.d)
Ridley, J (2008). Ikhtisar Kesehatan dan Keselamatan Kerja, Edisi Ketiga. (Soni Astranto, Penerjemah). Jakarta: Erlangga.
Saragih, F, (2015). Kompasotomotif. Total Kerugian Kecelakaan Lalu Lintas Mencapai Rp 224 Miliar. http://otomotif.kompas.com/read/2015/02/17/ 084000915. (Diakses 08 Agustus 2017).
Sholehudin, Moch. 2013. Hubungan Personal Faktor dengan Unsafe Action di Unit X- PT.Baja X, Jurnal. Surabaya, ADLN Perpustakaan Universitas Airlangga.
Smith System (5 Kunci Berkendara Yang Aman). (n.d)
Soekarna, N. (2012). Buku panduan Safety Driving Roda Empat. (n.d)
Sucipto, C. (2014). Keselamatan dan Kesehatan Kerja. Yogyakarta: Gosyen Publishing.
Suma'mur, P.K. (2009). Higiene Perusahaan dan Kesehatan Kerja. Jakarta: PT. Toko Gunung Agung. Cetakan XII
Tambunan, Rudi M. (2013) Pedoman Penyusunan Standard Operating Procedures (SOP). Edisi kedua, Maiestas Publishing, Jakarta
Teori-Kepribadian-Model-Lima-Besar-Big-Five-Personality. (n.d)
Tim Skripsi Prodi IKM STIKes HTP. (2016). Buku Panduan Skripsi. Pekanbaru: Prodi IKM.
Umar, H. (20113). Desain Penelitian MDSM dan Perilaku Karyawan. Jakarta: Rajawali Pers.
UU No 1 Tahun (1970) Tentang Keselamatan Kerja.
UU No.13 Tahun (2003) Tentang Ketenagakerjaan.
UU RI No.22 Tahun (2009). Tentang Lalu Lintas dan Angkutan Jalan.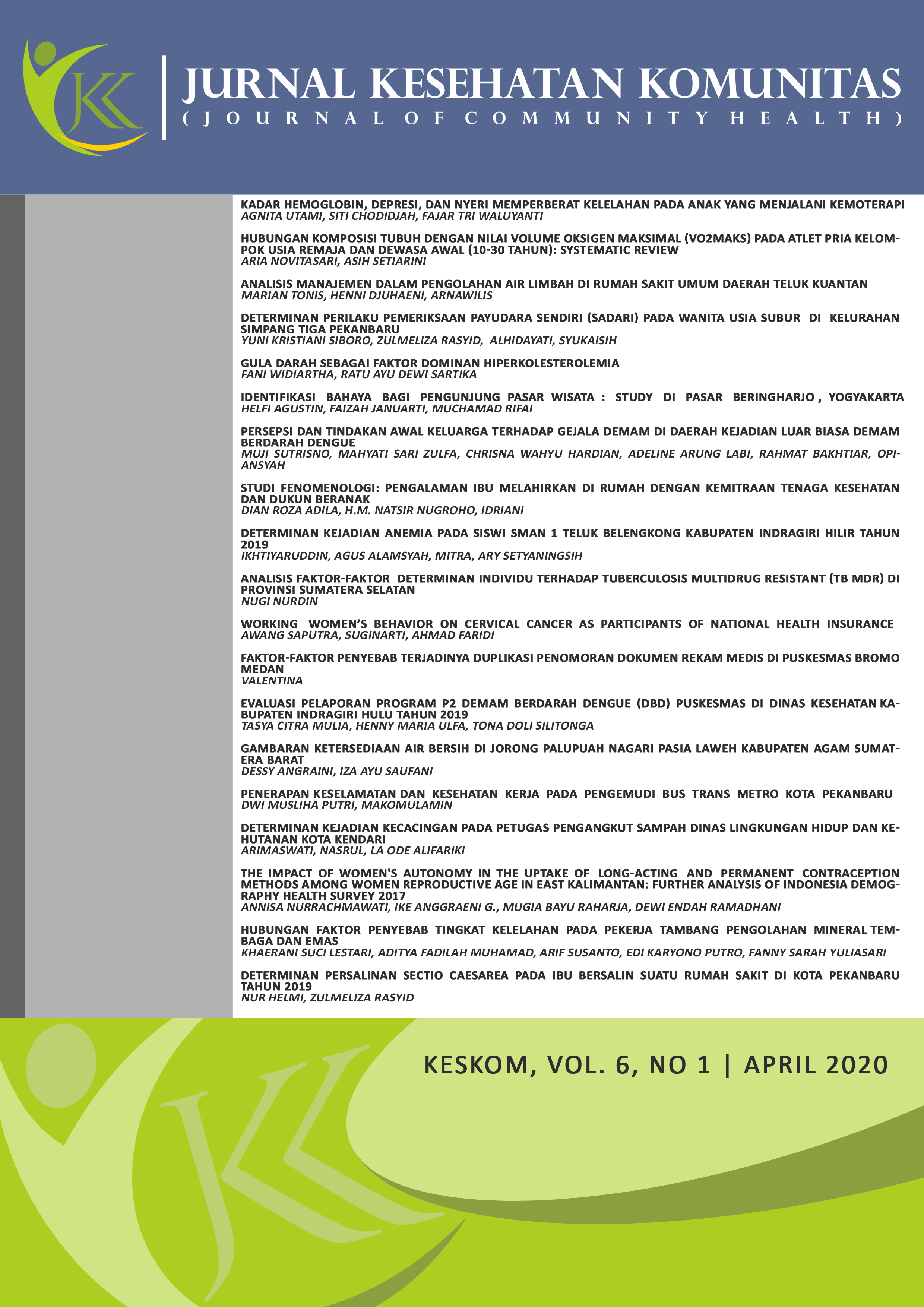 Downloads
How to Cite
1.
amin makomulamin, Putri DM. APPLICATION OF OCCUPATIONAL SAFETY AND HEALTH TRANS METRO ON BUS DRIVERS PEKANBARU CITY . J Keskom [Internet]. 2020 May 28 [cited 2023 Mar. 21];6(1):92-7. Available from: https://jurnal.htp.ac.id/index.php/keskom/article/view/459
License
Copyright (c) 2020 Jurnal Kesehatan Komunitas
This work is licensed under a Creative Commons Attribution-NonCommercial-ShareAlike 4.0 International License.
Copyright @2017. This is an open-access article distributed under the terms of the Creative Commons Attribution-NonCommercial-ShareAlike 4.0 International License (http://creativecommons.org/licenses/by-nc-sa/4.0/) which permits unrestricted non-commercial used, distribution and reproduction in any medium