Factors Associated With Occurenceof Childhood Pneumonia In Bangkinang Hospital Kampar Regency
Keywords:
Mother's Education, Early Childhood Pneumonia, sex, nutrition status, Bangkinang Hospital
Abstract
Pneumonia is an acute infection that attacks the lung tissue (alveoli) of caused by bacteria, viruses or fungi. The number of cases  of pneumonia in children under five Bangkinang hospitalare 133 in 2012 and which is the three highest ranks of the top ten most diseases. This study aims to determine the factors associated with the incidence of pneumonia in children under five in Bangkinang Child Care Hospital. The type of design used is Case Control Study. Prepalation is children of under five asinpatient clime. Sampling 0.was done by taking all the case all cases of pneumonia in the year 2009-2012 and sample control of is taken by systematic random sampling from of those without pneumonia. Data analysis was performed using univariate, bivariate, and multivariate logistic regression. The results showed that there is a relationship between the occurrence of pneumonia and is mother's education (95% CI: OR = 1.981 to 6.198), gender (95% CI: OR = 1.633 to 3.989), maternal employment (95% CI: OR = 1.335 to 3.231), exclusive breastfeeding (CI 95%: OR = 1.146 to 2.770) and immunization status (CI 95%: OR = 1.02 to 2.54). Health authorities are expected to work closely with the hospitals Bangkinang in coordination with public health education unit of the hospital (PKM-RS) to conduct outreach and health promotion regarding pneumonia especially to the less educated mothers, working mothers with children under five men.
Downloads
Download data is not yet available.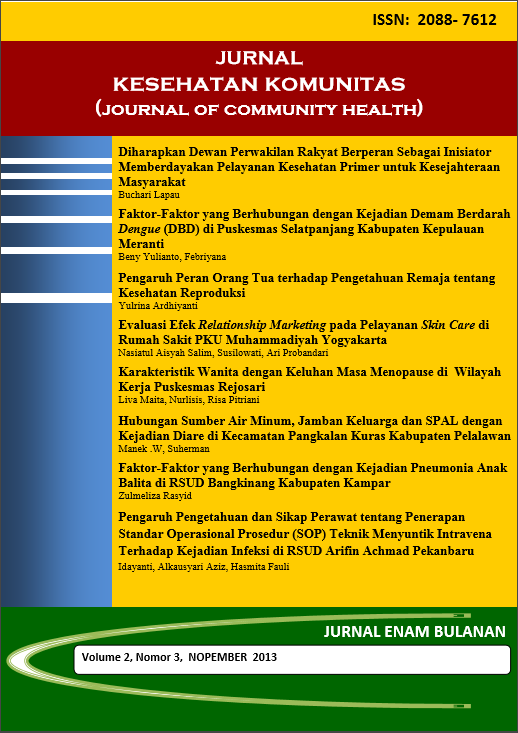 Downloads
How to Cite
1.
Rasyid Z. Factors Associated With Occurenceof Childhood Pneumonia In Bangkinang Hospital Kampar Regency. J Keskom [Internet]. 2013Nov.1 [cited 2021Oct.26];2(3):136-40. Available from: https://jurnal.htp.ac.id/index.php/keskom/article/view/61
License
Copyright @2017. This is an open-access article distributed under the terms of the Creative Commons Attribution-NonCommercial-ShareAlike 4.0 International License (http://creativecommons.org/licenses/by-nc-sa/4.0/) which permits unrestricted non-commercial used, distribution and reproduction in any medium