Health Coaching Implementation on Improving Tuberculosis Prevention Behaviors in Tegal Regency
Keywords:
tuberculosis prevention behaviors, health coaching, tuberculosis
Abstract
Tuberculosis is the deadliest infectious disease in the world. The most prevalence is in Asia and Africa. The study aimed to find out the effect of health coaching on tuberculosis prevention behaviors for patients diagnosed with the disease. The research used Quasy Experiment pre-posttest with control group on 68 respondents consisted of treatment and control group. It was started by having validity and reliability test of research questionnaires, providing health coaching as one of the health promotion strategies in nursing divided into 4 sessions, performing univariate test to describe the research variables and bivariate test; independent t-test and pair t-test. The results independent t test showed that mean of tuberculosis behavior of intervention group is higher more than 8,88 control group. The effect of health coaching was a significant difference in tuberculosis prevention behaviors with p value = 0,000.The coaching presented to patients with tuberculosis included physical prevention behaviors and improving body endurance by getting stress management. To sum up, health coaching can increase tuberculosis prevention behaviors significantly for patients with tuberculosis who are being treated.
Downloads
Download data is not yet available.
References
Alshukairi, A. N., Moalim, H. M., Alsaedi, A., Almansouri, W. Y., Al-Zahrani, M., Aljuaid, A., ... & Al-Hajoj, S. A. (2020). Family cluster of multi-drug resistant tuberculosis in Kingdom of Saudi Arabia. Journal of Infection and Public Health, 13(1), 154-157. https://doi.org/10.1016/j.jiph.2019.07.028
Amin, M. A., Wahyudi, A. S., & Nursalam, N. (2020). The Effect of Health Coaching-based Health Belief Model on Preventing the Pulmonary Tuberculosis Transmission at Puskesmas Karang Taliwang and Ampenan West Nusa Tenggara. International Journal of Nursing and Health Services (IJNHS), 3(4), 494-500.
Ato, M. L., & Sis, M. T. (2019). Assessment of Knowledge, Attitude and Practice of Tuberculosis Transmission and Prevention Among Tuberculosis Patients at Kuyyu Hospital, North Shoa Zone, Oromia Regional State, Ethiopia. The Anatolian Journal of Family Medicine, 2(3), 91-97.
Chiang, S. S., Dolynska, M., Rybak, N. R., Cruz, A. T., Aibana, O., Sheremeta, Y., ... & Jenkins, H. E. (2020). Clinical manifestations and epidemiology of adolescent tuberculosis in Ukraine. ERJ Open Research, 6(3).
Di Gennaro, F., Vittozzi, P., Gualano, G., Musso, M., Mosti, S., Mencarini, P., ... & Palmieri, F. (2020). Active Pulmonary Tuberculosis in Elderly Patients: A 2016–2019 Retrospective Analysis from an Italian Referral Hospital. Antibiotics, 9(8), 489.
Dorji, K., Lestari, T., Jamtsho, S., & Mahendradhata, Y. (2020). Implementation fidelity of hospital based directly observed therapy for tuberculosis treatment in Bhutan: mixed-method study. BMC public health, 20, 1-12.
Holden, K. L., Bradley, C. W., Curran, E. T., Pollard, C., Smith, G., Holden, E., ... & Garvey, M. I. (2018). Unmasking leading to a healthcare worker Mycobacterium tuberculosis transmission. Journal of Hospital Infection, 100(4), e226-e232.
Kementerian Kesehatan RI. (2018). Laporan Nasional Riskesdas 2018. Jakarta: Kementerian Kesehatan RI. Badan Penelitian dan Pengembangan Kesehatan.
Liu, Y., Zhang, X., Zhang, Y., Sun, Y., Yao, C., Wang, W., & Li, C. (2018). Characterization of Mycobacterium tuberculosis strains in Beijing, China: drug susceptibility phenotypes and Beijing genotype family transmission. BMC infectious diseases, 18(1), 658.
Floyd, K., Glaziou, P., Zumla, A., & Raviglione, M. (2018). The global tuberculosis epidemic and progress in care, prevention, and research: an overview in year 3 of the End TB era. The Lancet Respiratory Medicine, 6(4), 299-314.
Jones, R. J., Woods, S. A., & Zhou, Y. (2019). The effects of coachee personality and goal orientation on performance improvement following coaching: A controlled field experiment. Applied Psychology. https://doi.org/10.1111/apps.12218
Lin, S., Xiao, L. D., & Chamberlain, D. (2020). A nurse-led health coaching intervention for stroke survivors and their family caregivers in hospital to home transition care in Chongqing, China: a study protocol for a randomized controlled trial. Trials, 21(1), 1-11.
Marquez, C., Atukunda, M., Balzer, L. B., Chamie, G., Kironde, J., Ssemmondo, E., ... & Kwarisiima, D. (2020). The age-specific burden and household and school-based predictors of child and adolescent tuberculosis infection in rural Uganda. PloS one, 15(1), e0228102.
Ma'rufi, I., Ali, K., Jati, S. K., Sukmawati, A., Ardiansyah, K., & Ningtyias, F. W. (2020). Improvement of Nutritional Status among Tuberculosis Patients by Channa striata Supplementation: A True Experimental Study in Indonesia. BioMed Research International, vol. 2020, Article ID 7491702, 9 pages. https://doi.org/10.1155/2020/7491702
MacNeil, A. (2020). Global Epidemiology of Tuberculosis and Progress Toward Meeting Global Targets—Worldwide, 2018. MMWR. Morbidity and Mortality Weekly Report, 69.
Mohammedhussein, M., Alenko, A., Tessema, W., & Mamaru, A. (2020). Prevalence and Associated Factors of Depression and Anxiety Among Patients with Pulmonary Tuberculosis Attending Treatment at Public Health Facilities in Southwest Ethiopia. Neuropsychiatric Disease & Treatment, 16.
Monintja, N. G., Warouw, F., & Pinontoan, O. R. (2020). Keadaan Fisik Rumah dengan Kejadian Tuberkulosis Paru. Indonesian Journal of Public Health and Community Medicine, 1(3), 93-99.
Rodriguez, A., Douphrate, D. I., Gimeno Ruiz De Porras, D., Perez, A., Hagevoort, R., Nonnenmann, M., & Cienega, L. (2020). Association of Category of Cattle Exposure with Tuberculosis Knowledge among Dairy Workers in Bailey County, Texas. Journal of Agromedicine, 1-10. https://doi.org/10.1080/1059924X.2020.1765931
Siagian, E. (2019). Tuberculosis Patient Adherence to Treatment and Transmission to Home Contact Family Members. Journal of Nursing Care, 2(2). https://doi.org/10.24198/jnc.v2i2.20759
Sunaryo, N. K., Haryanto, J., & Sustini, F. (2020). The Relationship between Trust and Family Empowerment to Prevent Transmission of Pulmonary Tuberculosis. International Journal of Nursing and Health Services (IJNHS), 3(1), 412-416.
Waheed, Y., Khan, M. A., Fatima, R., Yaqoob, A., Mirza, A., Qadeer, E., ... & Kumar, A. M. V. (2017). Infection control in hospitals managing drug-resistant tuberculosis in Pakistan: how are we doing?. Public health action, 7(1), 26-31.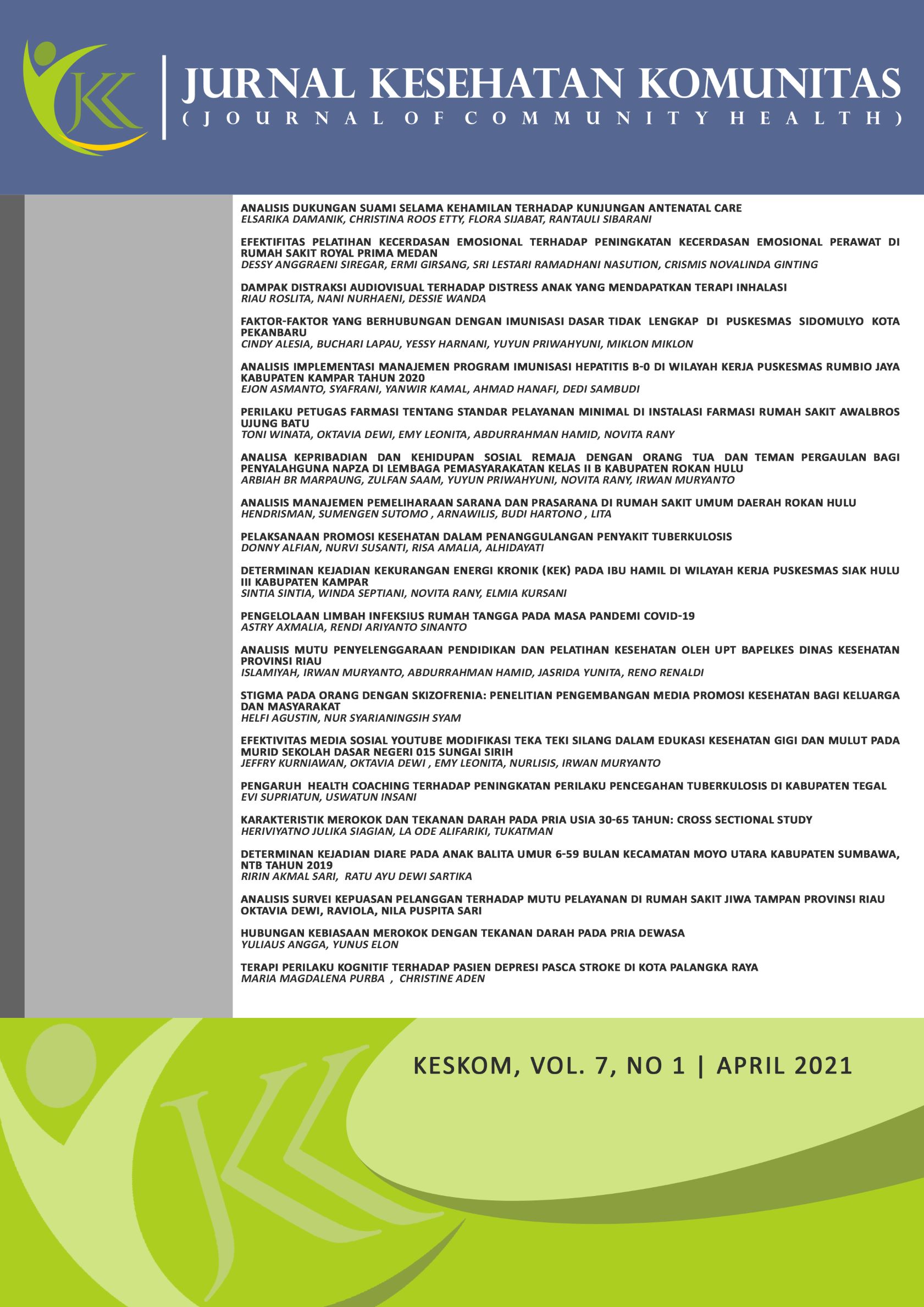 Downloads
How to Cite
1.
Evi Supriatun, Insani U. Health Coaching Implementation on Improving Tuberculosis Prevention Behaviors in Tegal Regency. J Keskom [Internet]. 2021Apr.30 [cited 2021Oct.26];7(1):97-105. Available from: https://jurnal.htp.ac.id/index.php/keskom/article/view/870
License
Copyright (c) 2021 Jurnal Kesehatan Komunitas
This work is licensed under a Creative Commons Attribution-NonCommercial-ShareAlike 4.0 International License.
Copyright @2017. This is an open-access article distributed under the terms of the Creative Commons Attribution-NonCommercial-ShareAlike 4.0 International License (http://creativecommons.org/licenses/by-nc-sa/4.0/) which permits unrestricted non-commercial used, distribution and reproduction in any medium