Making Hand Sanitizer With Spray Technique Through Utilization Of Betel Leaf Extract In Order To Improve A Clean And Healthy Living Culture
Pembuatan Hand Sanitizer Dengan Teknik Spray Melalui Pemanfaatan Ekstrak Daun Sirih Dalam Rangka Meningkatkan Budaya Hidup Bersih Dan Sehat
Keywords:
healthy lifestyle, hand sanitizer, betel leaf, daun sirih
Abstract
The Covid-19 virus is a virus that attacks the respiratory and causes death. A clean and healthy lifestyle is one of ways that can be done to survive during this pandemic. This community service program aims to make hand sanitizer with betel leaf extract. The target of this program is the community in Dusun Jetak, Kelurahan Wonorejo, Kecamatan Gondangrejo, Karanganyar. The method used to implement the service program is through the method of socialization and direct practice in making hand sanitizers. The result of the community service program is the ability of the community to make household-scale hand sanitizers independently. The results of the average score got by the community after the socialization program for making hand sanitizers are between 70-80. Each group in the hand sanitizer manufacturing program produces 2 liters. The level of public acceptance of hand sanitizer products with betel leaf extract is 85%. At the monitoring and evaluation stage, the community has an understanding level of 80-90%.
Abstrak
Virus Covid-19 merupakan virus yang menyerang pernafasan dan dapat menyebabkan kematian. Pola hidup bersih dan sehat merupakan salah satu usaha yang dapat dilakukan agar survive dalam masa pandemi ini. Program pengabdian masyarakat ini bertujuan untuk membuat hand sanitizer dengan ekstrak daun sirih. Sasaran pelaksanaan program ini adalah masyarakat Dusun Jetak, Kelurahan Wonorejo, Kecamatan Gondangrejo, Karanganyar. Metode yang dilakukan dalam pelaksanaan program pengabdian ini yaitu melalui metode sosialisasi dan praktik langsung dalam pembuatan hand sanitizer. Hasil dari program pengabdian masyarakat ini adalah masyarakat memiliki kemampuan dalam membuat mandiri hand sanitizer skala rumah tangga. Hasil rata-rata score yang diperoleh masyarakat pasca program sosialisasi pembuatan hand sanitizer berada dalam rentang nilai 70-80. Setiap kelompok dalam program pembuatan hand sanitizer ini menghasilkan 2 liter. Tingkat penerimaan masyarakat terhadap produk hand sanitizer dengan ekstrak daun sirih yaitu sebesar 85%. Pada tahap monitoring dan evaluasi masyarakat memiliki tingkat pemahaman sebesar 80-90%.  
Downloads
Download data is not yet available.
References
Bahri, S., Ginting, Z., Vanesa, S., & ZA, N. (2021). Formulasi Sediaan Gel Minyak Atsiri Tanaman Nilam (Pogostemon cablin benth) Sebagai Antiseptik Tangan (Hand Sanitizer). Jurnal Teknologi Kimia Unimal, I(10), 87–99. http://ejournalmapeki.org/index.php/JITKT/article/view/444
Bustanussalam, Apriasi, D., Suhardi, E., & Jaenudin, D. (2015). Efektivitas Antibakteri Ekstrak Daun Sirih (Piper betle Linn) Terhadap Staphylococcus aureus ATCC 25923. Fitofarmaka, 5(2), 58–64.
Effendi, A. P. P., Sholikah, N., & Ismawati, R. (2020). Pembuatan Hand Sanitizer Alami Dengan Memanfaatkan Tumbuhan Daun Sirih Di Rw 04 Desa Setia Mekar. Abdipraja : Jurnal Pengabdian Kepada Masyarakat, 1(1), 29–35.
Fathoni, D. S., Fadhillah, I., & Kaavessina, M. (2019). Efektivitas Ekstrak Daun Sirih Sebagai Bahan Aktif Antibakteri Dalam Gel Hand Sanitizer Non-Alkohol. Equilibrium, 3(1), 1–6.
Fatmawati, F. (2020). Edukasi Penggunaan Hand Sanitizer Dan Pembagian Hand Sanitizer Disaat Pandemi Covid-19. JCES (Journal of Character Education Society), 3(2), 432–438.
Hairunisa, N., & Amalia, H. (2020). Review: penyakit virus corona baru 2019 (COVID-19). Jurnal Biomedika Dan Kesehatan, 3(2), 90–100. https://doi.org/10.18051/jbiomedkes.2020.v3.90-100
Hapsari, D. N., Hendrarini, L., & Muryani, S. (2015). Manfaat Ekstrak Daun Sirih (Piper betle Linn) Sebagai Hand Sanitizer Untuk Menurunkan Angka Kuman Tangan. Sanitasi, Jurnal Kesehatan Lingkungan, 7(2), 79–84.
Holifah, Y, A., Ningsih, A. W., Sinaga, B., & Nurrosyidah, I. H. (2020). Efektifitas Antiseptik Gel Hand Sanitizer Ekstrak Etanol Pelepah Pisang Kepok (Musa paradisiaca L.) Terhadap Bakteri Staphylococcus aureus Dan Escherichia coli. JIM, 6(2), 123–132.
Levani, Prastya, & Mawaddatunnadila. (2021). Coronavirus Disease 2019 (COVID-19): Patogenesis, Manifestasi Klinis dan Pilihan Terapi. Jurnal Kedokteran Dan Kesehatan, 17(1), 44–57. https://jurnal.umj.ac.id/index.php/JKK/article/view/6340
Madhumita, M., Guha, P., & Nag, A. (2020). Bio-actives of betel leaf (Piper betle L.): A comprehensive review on extraction, isolation, characterization, and biological activity. Phytotherapy Research, 34(10), 2609–2627. https://doi.org/10.1002/ptr.6715
Nguyen, L. T. T., Nguyen, T. T., Nguyen, H. N., & Bui, Q. T. P. (2020). Simultaneous determination of active compounds in Piper betle Linn. leaf extract and effect of extracting solvents on bioactivity . Engineering Reports, 2(10), 2–9. https://doi.org/10.1002/eng2.12246
Nursofwa, R. F., Sukur, M. H., Kurniadi, B. K., & . H. (2020). Penanganan Pelayanan Kesehatan Di Masa Pandemi Covid-19 Dalam Perspektif Hukum Kesehatan. Inicio Legis, 1(1), 1–17. https://doi.org/10.21107/il.v1i1.8822
Rosida, D. F., Djajati, S., Nilamayu, Z. A., & Rosida. (2018). Antibacterial Activity of Leucaena leucocephala Extracts on Growth of Escherichia coli . Advanced Science Letters, 23(12), 12268–12271. https://doi.org/10.1166/asl.2017.10618
Sundari, D., & Almasyhuri, A. (2018). Uji Aktivitas Antiseptik Ekstrak Etanol Daun Sirih (Piper betle Linn.) dalam Obat Kumur terhadap Staphylococcus aureus secara in Vitro. Jurnal Kefarmasian Indonesia, 9(1), 10–18. https://doi.org/10.22435/jki.v9i1.351
Syahrinastiti, T. A., Djamal, A., & Irawati, L. (2015). Perbedaan Daya Hambat Ekstrak Daun Sirih Hijau ( Piper betle L. ) dan Daun Sirih Merah ( Piper crocatum Ruiz & Pav ) terhadap Pertumbuhan Escherichia coli. Jurnal Kesehatan Andalas, 4(2), 421–424. https://doi.org/10.25077/jka.v4i2.265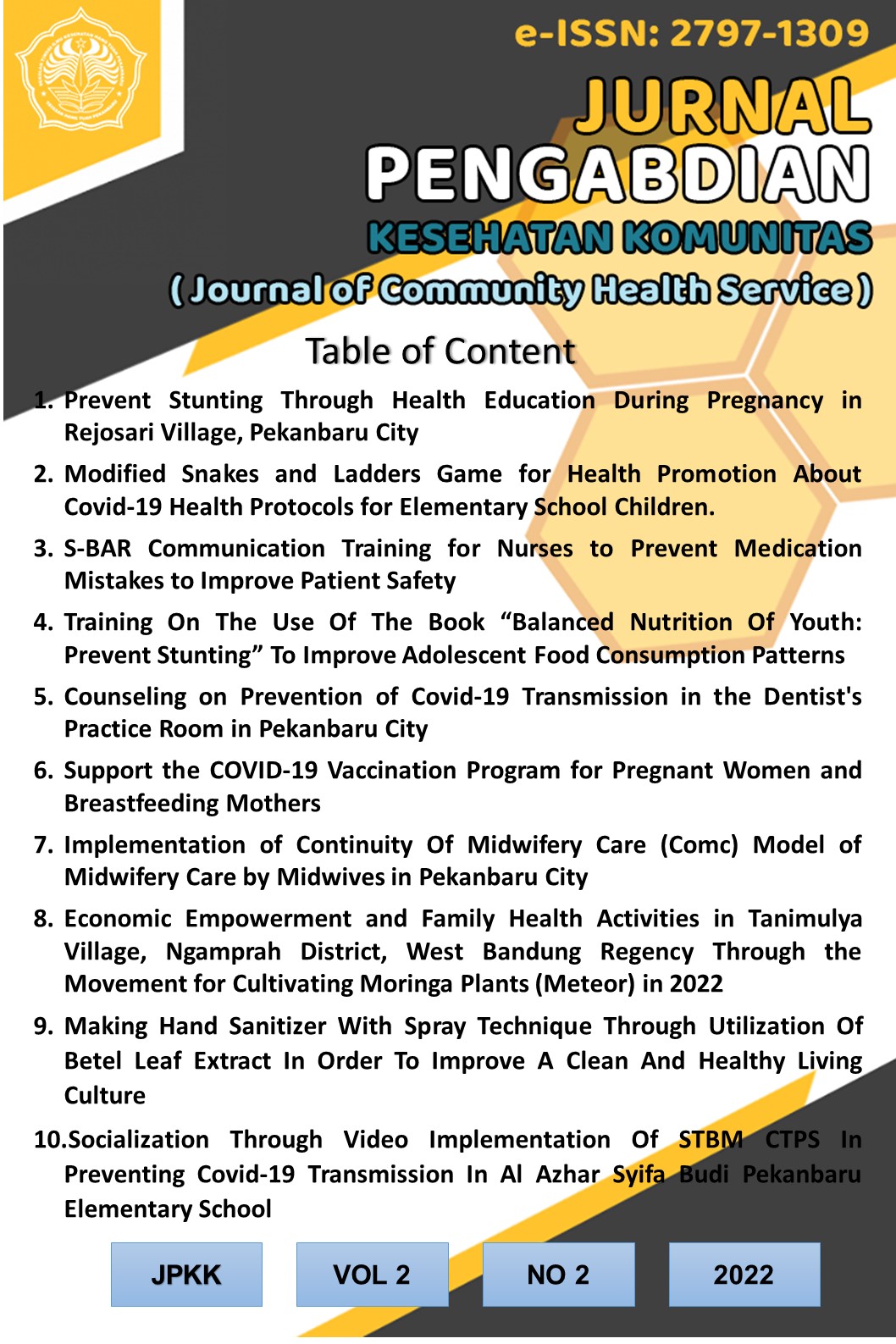 Downloads
How to Cite
Latifah, R. N. (2022). Making Hand Sanitizer With Spray Technique Through Utilization Of Betel Leaf Extract In Order To Improve A Clean And Healthy Living Culture : Pembuatan Hand Sanitizer Dengan Teknik Spray Melalui Pemanfaatan Ekstrak Daun Sirih Dalam Rangka Meningkatkan Budaya Hidup Bersih Dan Sehat . Jurnal Pengabdian Kesehatan Komunitas, 2(2), 158–168. https://doi.org/10.25311/jpkk.Vol2.Iss2.1335
License
Copyright (c) 2022 Jurnal Pengabdian Kesehatan Komunitas
This work is licensed under a Creative Commons Attribution-NonCommercial-ShareAlike 4.0 International License.