RELATION WORKING ENVIRONMENT BEHAVIOR AGAINST FISHERMEN SCENE PTERYGIUM IN THE VILLAGE KEMANG KECAMATAN BASE KURAS PELALAWAN DISTRICT
Keywords:
working environtment, fishermen behavior, pterygium, desa kemang pelalawan
Abstract
Pterygium is a thickening of the conjunctiva or the white part of the eye on the side of the medial or lateral, usually in older people, but can also be found in young adults, and increasingly extends towards the cornea. Ultraviolet light is one factor that can increase the incidence of pterygium. This situation is an irritating phenomenon caused by ultraviolet light, drying and the environment with a lot of wind. Data from Kemang Postu found that 30 (80%) incidence of pterygium.
The purpose of this research that determines the behavior of fishermen on the incidence pteirigum. This research is a quantitative research with cross sectional analytic design. This research was conducted in Desa Kemang District of Pangkalan Kuras Pelalawan June-July 2016, with a sampling technique in the study of saturated sampling. Data were collected using a questionnaire and profile data from Kemang Village office. Data analysis for bivariate with chi-square test on the degree of α = 0.05.
The results showed that there is a relationship between knowledge p-value = 0.001 <0.05 POR = 18,083 (3.281-99.67), personal protective equipment fisherman p-value = 0.001 <0.05, POR = 14,000 (2.69-72.97) the role of power health with the results of p-value = 0.008 <0.05, POR 10,667 (1.92-59.20) and the period of 0,017 fishermen p-value <0.05, POR 7750 (1.53-39.12) with pterygium disease.
Health workers should pay more attention to the fishing community in order to prevent and menangguangi incidence of pterygium.
Downloads
Download data is not yet available.
References
Anurogo, D. (2011) 45 Penyakit Aneh dan Khusus.Yogyakarta: Andi.
Erry, Ully.A, Dwi, S. (2011). Distribusi dan Karaktristik Pteregium di Indonesia (Online) Buletin Penelitian Sistem Kesehatan. Vol. 14 No 1 januari 2011:84-89. Jakarta./http://ejournal.litbang.depkes.go.id/index.php/hsr/article/view/2311. diakses 3 juni 2016 pk 1.13 wib
Gahayu, S. A. (2011). Buku Ajar Metode Penelitian. STIKes Hang Tuah.
Josefien,S.(2010). The Risk of Human Papilloma Virus 18 on the Recurrences of Pteregium. (online) Jurnal Oftalmologi Indonesia. Vol. 7/ No. 5 / Published: 2011-06. Manado. http://journal.unair.ac.id diakses 2 juni 2016 pk 09.39 wib
Kemenkes (2012) Pembinaan Kesehatan Kerja Nelayan di 8 Kabupaten/Kota Pada Tahun 2012 (online) http://www.gizikia.depkes.go.id/pembinaan-kesehatan-kerja-nelayan-di-8-kabupatenkota-pada-tahun-2012/ diakses tanggal 10 Maret 2016 Pk 15.00 wib.
Ilyas, S. (2008). Ilmu Penyakit Mata. Jakarta: Balai Penerbit FKUI.
Ilyas, S. (2010). Atlas Ilmu Penyakit Mata. Jakarta: CV Sagung Seto.
Irianto, S. (2008). Nelayan Di Mata Kita. Pekanbaru: CV Sukabina.
Nainggolan, N. (2010). Tingkat Pengetahuan Pasien Rawat Jalan di Poliklinik Mata RSUP Haji/Adam/Malik/TentangPteregyum./(online), karya tulis ilmiah, fakultas kedokteran universitas sumatra utara meda,/http://repository.usu.ac.id/bitstream/123456789/21506/6/Cover.pdf, diakses 17 februari 2016 Pk 14.25 wib.
Nasution, D.M. (2013). Hubungan Pekerjaan Pada Penduduk Yang Tinggal Di Sekitar Pantai Dengan Kejadian Pterigium Di Kelurahan Bagan Deli Kecamatan Medan Belawan. (online), karya tulis ilmiah, fakultas/kedokteran/universitas/Sumatra/utara/meda,/http://skripsieceran.blogspot.co.id/2014/11/contohskripsikedokteranhubungan_25.html, diakses 17 februari 2016 Pk 13.37 wib.
Notoatmodjo (2013). Promosi Kesehatan dan Perilaku Kesehatan. Jakarta: Rineka Cipta.
Raihana. (2007). Karakteristik penderita pterygium dipoliklinik mata RSUD Arifin Achmad Pekanbaru Periode Januari 2003 – Desember 2005. Pekanbaru ; FK/UNRI/(Online)/https://yayanakhyar.files.wordpress.com/2009/05/pterigium-riri-julianti-files-of-drsmed-fk-ur.pdf. diakses 3 juni 2016 Pk12.41 wib)
Riskesdas. (2015). Riset Kesehatan Dasar. Jakarta: Badan Penelitian dan Pengembangan Kesehatan (online), www.depkes.go.id, diakses 17 februari 2016 Pk 15.03 wib)
Pasaribu,I (2011) Prevalensi Pterygium pada Masyarakat Pesisir Di Kelurahan Kedungcowek Kecamatan Bulak Surabaya. Surabaya: Universitas Hang Tuah/Surabaya./(Online)/http://www.academia.edu.
Profil Desa Kemang Kecamatan Pngkalan Kuras Kabupaten Pelalawan Tahun 2014.
Toni,A. (2015) Laki-laki 38 Tahun dengan Pterigium Temporalis Grade 3 OS.(online), jurnal fakultas kedokteran, vol.4 no.2 Universitas Lampung (http://jukeunila.com.diakses 10.26.11 feb-2016.)
Weraman, P. (2010). Dasar Surveilans Kesehatan Masyarakat. Jakarta: CV Sagung Seto.
Wibowo,A. (2014). Kesehatan Masyarakat di Indonesia. Jakarta: PT Raja Grafindo Persada.
Yusuf,S, Laya.M, Yamin.T (2014). Perbandingan Privalensi Pteregium pada Nelayan di Tuming dengan Petani Di Rurukan. (online), jurnal fakultas kedokteran.OUniversitas/Sam/Ratulangi.OManado./http://ejournal.unsrat.ac.id/. Diakses 03 juni 2016 pk 00.49 wib.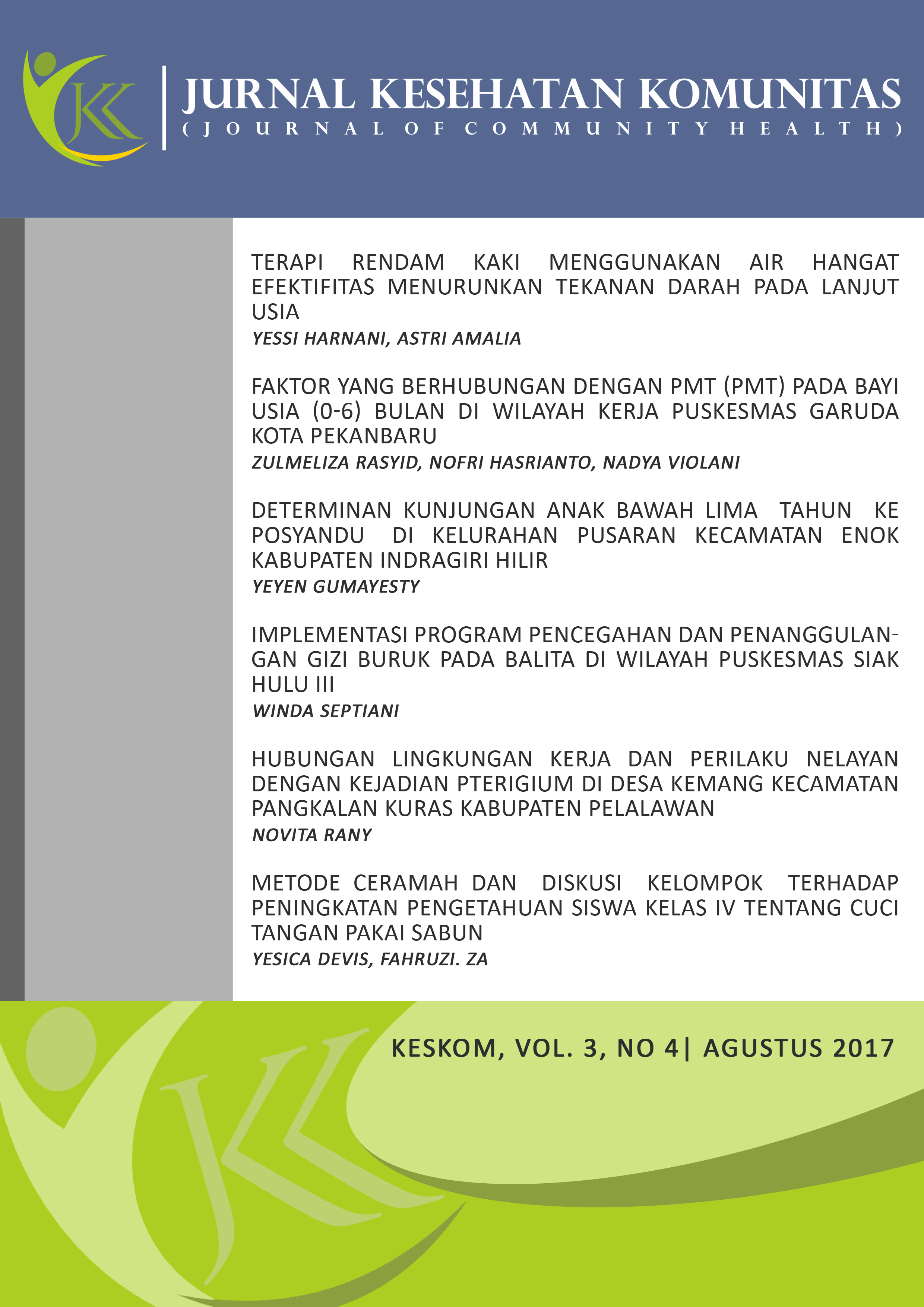 Downloads
How to Cite
1.
Rany N. RELATION WORKING ENVIRONMENT BEHAVIOR AGAINST FISHERMEN SCENE PTERYGIUM IN THE VILLAGE KEMANG KECAMATAN BASE KURAS PELALAWAN DISTRICT. J Keskom [Internet]. 2017 Dec. 31 [cited 2023 Mar. 21];3(4):153-8. Available from: https://jurnal.htp.ac.id/index.php/keskom/article/view/203
License
Copyright @2017. This is an open-access article distributed under the terms of the Creative Commons Attribution-NonCommercial-ShareAlike 4.0 International License (http://creativecommons.org/licenses/by-nc-sa/4.0/) which permits unrestricted non-commercial used, distribution and reproduction in any medium