Maternal Factors that Influence Abnormal Parturition at Arifin Achmad Hospital Riau Province
Keywords:
Abnormal Pertus, condition of pregnancy, the levels of Hb mother, RSUD Arifin Achmad
Abstract
Abnormal Pertus indicate the presence of complicating factors or complications of childbirth. Data at Arifin Achmad 2981 the number of labor cases, where the number of deliveries by vacuum extraction of as many as 96 cases (9.17%), SC as many as 407 cases (8.8%) and breech position 82 cases (12.97%), keeping the case the highest order. This study aims to know the factors associated with abnormal parturition the condition of pregnancy, birth spacing before, the levels of Hb, Conditions Membranes, Blood Pressure, Housing, How to come to the hospital, Age, Parity, Employment, Education. Method : this was an observational research using case control study. The number of samples are 245 cases and using 245 cases as controls.. Data analyzing was performed using univariate, bivariate and multivariate logistic regression method by program conputer. The results of this study is, the condition of pregnancy (95% CI: 1.66 to 4.60), Hb levels (95% CI: 4.26 to 21.59) , Blood Pressure (95% CI: 0.09 to 0.31), residence (95% CI: 11.18 to 3.17), How Come RS (, 95% CI: 1.78 to 4.6), age (95% Cl: 1.2 to 3.32), Employment (95% CI: 1.88 to 4.78), education (95% CI: 1.07 to 2.68). The conclusion of this study that the dominant variables associated with abnormal parturition is Hemoglobin Levels (Hb). Advice for mothers who have no desire to get pregnant again, it is advisable to use a high effectiveness of contraception (intrauterine device steady).
Downloads
Download data is not yet available.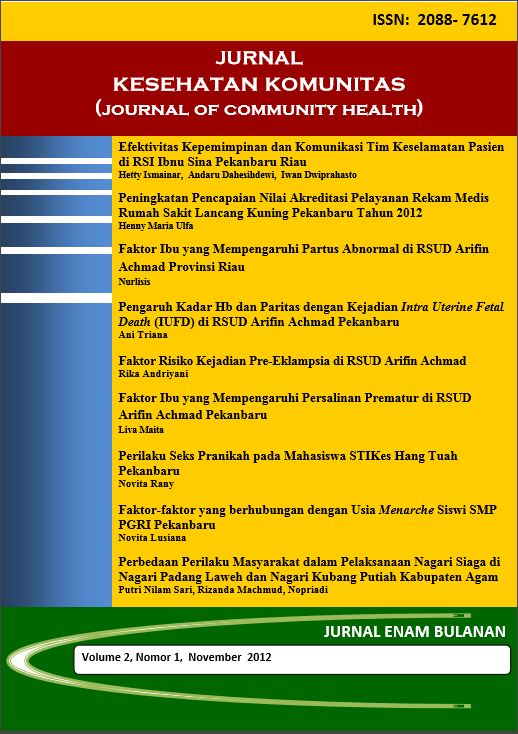 Downloads
How to Cite
1.
Nurlisis N. Maternal Factors that Influence Abnormal Parturition at Arifin Achmad Hospital Riau Province. J Keskom [Internet]. 2012 Nov. 9 [cited 2023 Jun. 9];2(1):14-9. Available from: https://jurnal.htp.ac.id/index.php/keskom/article/view/36
License
Copyright @2017. This is an open-access article distributed under the terms of the Creative Commons Attribution-NonCommercial-ShareAlike 4.0 International License (http://creativecommons.org/licenses/by-nc-sa/4.0/) which permits unrestricted non-commercial used, distribution and reproduction in any medium