Barriers to Regular Health Services in Hospitals during the COVID-19 Pandemic
Keywords:
COVID-19 pandemic, Hospitals, Regular health services
Abstract
The COVID-19 pandemic has caused some disruptions on regular health services at hospitals. This study identified barrier in regular health services in hospitals. This study was used scoping review method. The search for articles was carried out through the Science Direct, PubMed, and Google Scholar database.  The keywords were "regular health services†AND "hospitals†AND "barriers†AND "COVID-19â€and obtained a total of 66. Total of 4 articles that met the inclusion criteria were analyzed. The studies included were originated from several hospitals in four countries which showed inhibiting factors that affect regular health services. The most common factors found were related to organizations such as a lack of health human resources, lack of adaptation to the latest technology, lack of adaptation to hospital policies, and limited hospital facilities, infrastructure, and facilities. Hospitals need to maintain the sustainability of regular health services by evaluating service priorities, meeting the needs of health workers, facilities, and infrastructure.
Downloads
Download data is not yet available.
References
Elsayed, H. H., & Moharram, A. A. (2021). Airway Surgery for Laryngotracheal Stenosis During the COVID-19 Pandemic: Institutional Guidelines. Journal of Cardiothoracic and Vascular Anesthesia. https://doi.org/10.1053/j.jvca.2021.04.002
Felicia, V., & Suarca, K. (2020). Pelayanan Imunisasi Dasar pada Bayi di Bawah Usia 12 Bulan dan Faktor yang Memengaruhi di RSUD Wangaya Kota Denpasar Selama Masa Pandemi COVID-19 (Vol. 22, Issue 3).
Hasan, H. F. (2021). Legal and health response to covid-19 in the Arab Countries. Risk Management and Healthcare Policy, 14, 1141–1154. https://doi.org/10.2147/RMHP.S297565
Jakab, M., Nathan, N. L., Pastorino, G., Evetovits, T., Garner, S., Langins, M., Scotter, C., & Azzopardi-Muscat, N. (2020). 63 Providing health services effectively (Vol. 26, Issue 2).
Kazi, A. M., Ahsan, N., Mughis, W., Jamal, S., Allana, R., Raza, M., Muneer, S., Mughal, M. A. K., Kaleemuddin, H., Sameen, F., Ahmed, R. M., Abbasi, M., Stergioulas, L. K., & Qazi, S. A. (2021). Usability and acceptability of a mobile app for behavior change and to improve immunization coverage among children in pakistan: A mixed-methods study. International Journal of Environmental Research and Public Health, 18(18). https://doi.org/10.3390/ijerph18189527
Khatiwada, A. P., Maskey, S., Shrestha, N., Shrestha, S., Khanal, S., Kc, B., & Paudyal, V. (2021). Impact of the first phase of COVID-19 pandemic on childhood routine immunisation services in Nepal: a qualitative study on the perspectives of service providers and users. Journal of Pharmaceutical Policy and Practice, 14(1). https://doi.org/10.1186/s40545-021-00366-z
Menteri Kesehatan Republik Indonesia Nomor: 129/Menkes/Sk/Ii/2008 Tentang. (2008).
Mistry, S. K., Ali, A. R. M. M., Yadav, U. N., Ghimire, S., Hossain, M. B., Shuvo, S. das, Saha, M., Sarwar, S., Nirob, M. M. H., Sekaran, V. C., & Harris, M. F. (2021a). Older adults with non-communicable chronic conditions and their health care access amid COVID-19 pandemic in Bangladesh: Findings from a cross-sectional study. PLoS ONE, 16(7 July). https://doi.org/10.1371/journal.pone.0255534
Mollard, E., & Wittmaack, A. (2021). Experiences of Women Who Gave Birth in US Hospitals During the COVID-19 Pandemic. Journal of Patient Experience, 8. https://doi.org/10.1177/2374373520981492
Nikiphorou, E., Alpizar-Rodriguez, D., Gastelum-Strozzi, A., Buch, M., & Peláez-Ballestas, I. (2021). Syndemics & syndemogenesis in COVID-19 and rheumatic and musculoskeletal diseases: Old challenges, new era. In Rheumatology (United Kingdom) (Vol. 60, Issue 5, pp. 2040–2045). Oxford University Press. https://doi.org/10.1093/rheumatology/keaa840
Nurani, D., Kaseke, M. M., & Mongan, A. E. (2021). Dampak Pandemi Coronavirus Disease-19 terhadap Mutu Pelayanan Kemoterapi di Ruang Delima RSUP Prof. Dr. R. D. Kandou Manado. E-CliniC, 9(2), 412. https://doi.org/10.35790/ecl.v9i2.33490
Öncü, M. A., Yildirim, S., Bostanci, S., & Erdoğan, F. (2021). The effect of COVID-19 pandemic on health management and health services: A case of Turkey. Duzce Medical Journal, 23(Special Issue 1), 61–70. https://doi.org/10.18678/dtfd.860733
Ow Yong, L. M., Xin, X., Wee, J. M. L., Poopalalingam, R., Kwek, K. Y. C., & Thumboo, J. (2020). Perception survey of crisis and emergency risk communication in an acute hospital in the management of COVID-19 pandemic in Singapore. BMC Public Health, 20(1). https://doi.org/10.1186/s12889-020-10047-2
Padila, P., Panzilion, P., Andri, J., Nurhayati, N., & J, H. (2021). Pengalaman Ibu Usia Remaja Melahirkan Anak di Masa Pandemi COVID-19. Journal of Telenursing (JOTING), 3(1), 63–72. https://doi.org/10.31539/joting.v3i1.2075
Rachmi, I. N., & Pangaribowo, E. H. (2020). Pemilihan Rumah atau Non Fasilitas Pelayanan Kesehatan Sebagai Tempat Persalinan di Indonesia Timur.
Sharma, K., Banstola, A., & Parajuli, R. R. (2021). Assessment of COVID-19 Pandemic in Nepal: A Lockdown Scenario Analysis. Frontiers in Public Health, 9. https://doi.org/10.3389/fpubh.2021.599280
Spiegelman, J., Krenitsky, N., Syeda, S., Sutton, D., & Moroz, L. (2020). CASE STUDY Rapid Development and Implementation of a Covid-19 Telehealth Clinic for Obstetric Patients. https://doi.org/10.1056/CAT.20.0170
Sun, Y., Li, H., Luo, G., Meng, X., Guo, W., Fitzpatrick, T., Ao, Y., Feng, A., Liang, B., Zhan, Y., Sande, A., Xie, F., Wang, Y., Qian, H.-Z., Cai, Y., & Zou, H. (2020). Antiretroviral treatment interruption among people living with HIV during COVID-19 outbreak in China: a nationwide cross-sectional study. https://doi.org/10.1002/jia2.25637/full
Undang-Undang No. 44 Tahun 2009 tentang Rumah Sakit. (2009).
World Health Organization. (2020). WHO-2019-nCoV-clinical-2020.4-eng.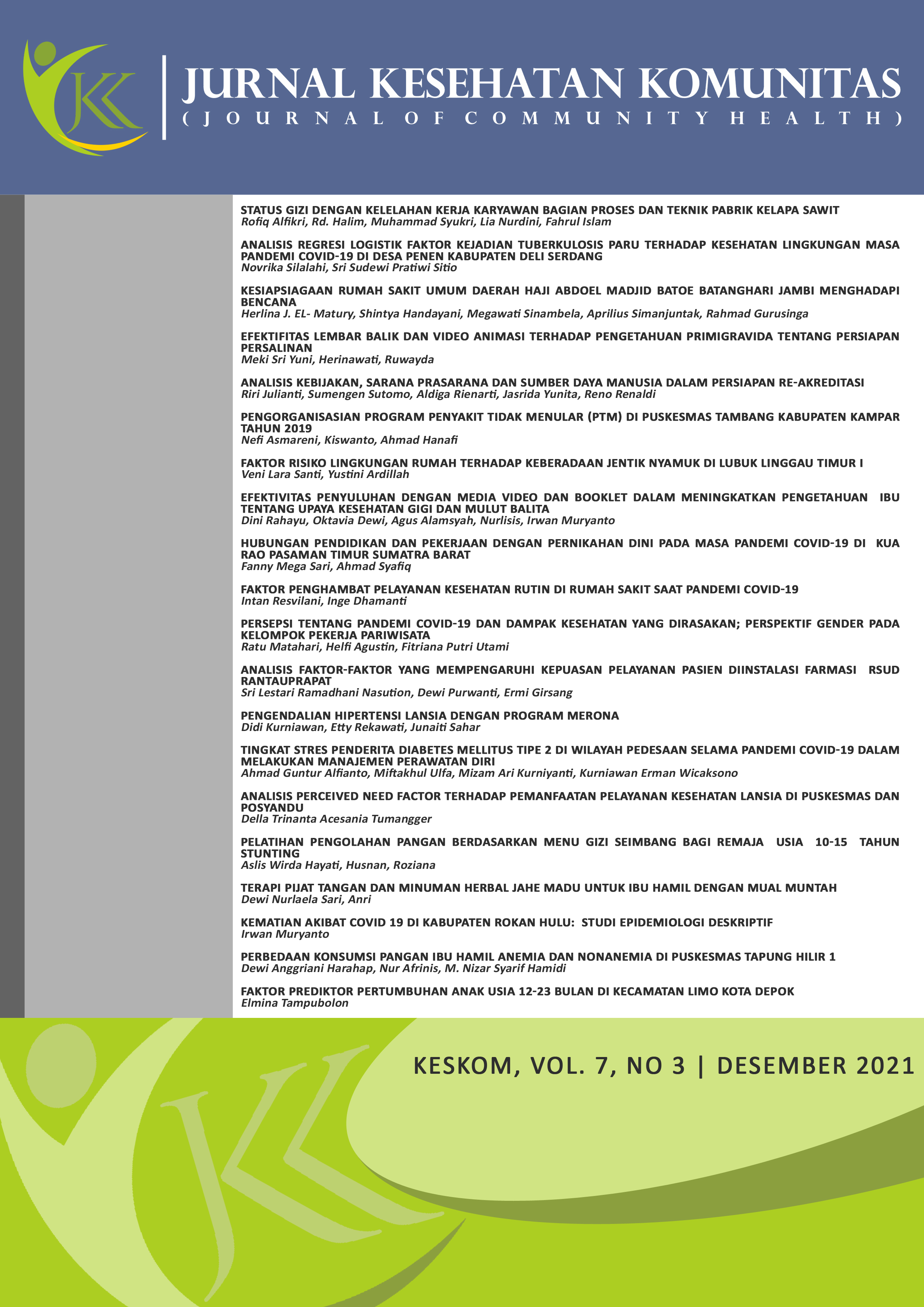 Downloads
How to Cite
1.
Intan Resvilani, Inge Dhamanti. Barriers to Regular Health Services in Hospitals during the COVID-19 Pandemic . J Keskom [Internet]. 2021 Dec. 31 [cited 2022 Aug. 14];7(3):328-32. Available from: https://jurnal.htp.ac.id/index.php/keskom/article/view/1014
License
Copyright (c) 2021 Jurnal Kesehatan Komunitas
This work is licensed under a Creative Commons Attribution-NonCommercial-ShareAlike 4.0 International License.
Copyright @2017. This is an open-access article distributed under the terms of the Creative Commons Attribution-NonCommercial-ShareAlike 4.0 International License (http://creativecommons.org/licenses/by-nc-sa/4.0/) which permits unrestricted non-commercial used, distribution and reproduction in any medium